Since 1980, our aim has been to allow young 18-20 yr olds to begin their professional and academic life with a solid linguistic grounding.
We receive your children and give them the opportunity to learn six languages: English, German, Chinese, Spanish, French and Dutch in groups and all other languages in private lessons (for one or more children).
Being here for our learners is of great importance to us and we do everything we can to help and motivate them throughout their language courses.
Kiddy's ideal study location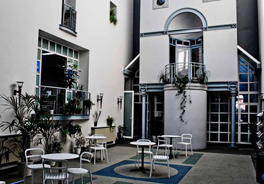 Kiddy & Junior Classes has 16 classrooms all fully equipped with wi-fi.
Our centre is located 10 minutes on foot from Schuman station, close to the business district and European institutions. Kiddy & Junior Classes is located slightly removed from the wide noisy avenues of Brussels, in a quiet traditional town house, ideally suited to study.

Our students come into the centre through the stunning entrance of the Art Nouveau Maison Van Dyck to be welcomed in our light and spacious Atrium designed in the style of Modern Art.
Sylvaine Drablier
Director
Sylvaine Drablier est diplômée des universités de Grenoble et de Bruxelles en langues slaves et linguistique appliquée à l'enseignement des langues.
Déjà pendant ses études, Mme Drablier a pu mettre tout son savoir et son savoir-faire à la fois pédagogique et administratif au service des étudiants en français langue étrangère de Grenoble.
EN 1974, elle s'installe à Bruxelles où elle saisit l'occasion, à 24 ans, de prendre la direction de l'école de langues qui deviendra LSI Bruxelles.
Six années plus tard, elle fonde l'asbl Kiddy & Junior Classes, école de langues pour enfants. Accueillant, en 1979, une unique classe d'anglais, madame Drablier voit aujourd'hui son asbl compter plus de 4000 enfants par an dans ses stages de vacances et ses cours de l'année scolaire.
Depuis ses débuts, Sylvaine Drablier a toujours pris soin de s'entourer de collaborateurs et collaboratrices dont la gentillesse et la compétence dans la pédagogie des langues ont largement contribué à l'excellente réputation de son centre, autant auprès des étudiants belges qu'internationaux.
Caroline Véjux
Deputy Manager

Coordinators
Sara Lambeau
Priscilla Lequeux